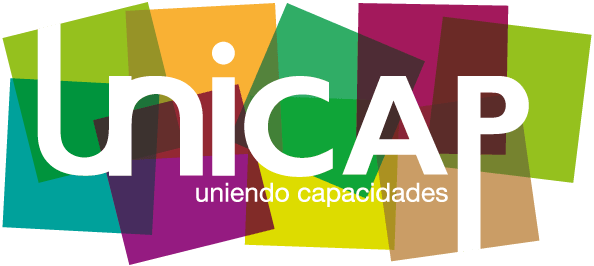 By way of UNICAP we want to bring you closer to the world of functional diversity, so that you may be enriched by the multiple diverse abilities that make up our world.

We are convinced that an approach to our society with respect, equality, normality and equity will make a difference in your lives and will change your outlook.

We are sure that the mutual benefits that are gained when you share experiences, spaces, projects and objectives are the impetus for change towards a more inclusive and pluralistic society.
¿Would you like to join us?
Corporate Volunteering:
UNICAP has just taken its first steps and we find ourselves in need of many things to cover all the projects we are planning. Any type of help is more than welcome. Tell us what you can do, and we will get you working immediately.
Individual Volunteering: Project "Hilando Vidas" (Weaving Lives):
a) Buy a Weavers Kit and WEAVE
Do you think you can organize a group of weavers in your community, workplace, group of friends or family? If so, we will give you the material and you create the environment.
This is a great initiative to be interlaced with new people with the same affinity and at the same time be part of a great project. Send us photographs of you "weaving"; we would love to see you in action.
b) Collaborate as a weaver by buying your own material
If you are outside Spain and would like to participate, all you have to do is follow our instructions on using the type of material and colours you are interested in. Please bear in mind that we are talking about a toy for new-born babies, therefore strict safety regulations apply to pattern size, type of thread and materials used, which must be adhered to at all times.
A project
Helping others to build a much better world, full of people with very different capabilities.
A hope
The only way to make this dream come true is to keep hope. Hope for the project, hope for doing something for others.
Life experience
Share and help, experience and learn. UNICAP will become a unique, special life experience.